Duwara Consciousness Foundation helps people from all walks of life to come together in a comfortable and safe environment to share meals, experiences, life events, and even deep friendships!
Many people are longing for a sense of community. Duwara Consciousness IS that community.
Most people experiencing homelessness have fallen out of the system. Once this happens, it's difficult to get back in. On the other side of the coin, many wealthy individuals seem to have become so consumed by the nature of that system that they live like a mouse on a treadmill— burning themselves out, neglecting their families and not having time for anything but the upkeep of their possessions and wealth. From this perspective, all of us are subject to the hegemony of this system. Therefore, we aim to cultivate a community where all can let the masks come off, and simply be in touch with themselves and the world around them. A break from the rat race. A sense of peace and, ultimately, self realization.
We are here to foster unity with ALL people, whether rich with assets, rich with love or rich with struggle. Our emphasis on the security of necessities, and our promotion of health and wellness extend to everybody in our ever-expanding community.
Regardless of one's worldly circumstances, we all face the reality of suffering- from the richest of the rich to the poorest of the poor. Some of us suffer from lack of resources, and many of us battle internal turmoil in the form of addiction, stress, anxiety, depression and more.
These personal struggles can have devastating consequences such as cancer, MSD and other chronic illnesses. By spending time in nature, connecting with each other, maintaining a yoga or other wellness practice, and allocating some time-out time for one's self, we can illuminate the fact that these harmful patterns are not insurmountable. With clear intention and the support of the communities around us, we can experience real transformation.
(Wo)Men have been given a natural charge to help one another through Love. If we were put on this earth for anything else but Love, we would not need to be trained or socialized to hurt, kill or destroy. And this Love extends to everyone, including those most marginalized by society.
Greed and the obsession with material possessions have compromised this innate Love and many of us have become lost in a darkness. We are looking for something but we don't know what. Our organization will nourish all people— from those who lack food, shelter and proper hygiene, to those who have lost touch with the instinct for Love.
Davinder Singh was born & raised in the United Kingdom and has always been drawn to the challenge of entrepreneurship and building businesses. Every business he built in and around London was based on helping local communities, the planet and the environment.
​
Davinder's business endeavors have ranged from eco-friendly baby shops— selling reusable diapers, rubber wood toys and organic/fair trade cotton clothing— to crystal healing and yoga studios.
​
In 2015 Davinder expanded his business portfolio and brought his business from the UK to Encinitas and Oceanside, California.
​
Once moved to Southern California, he was struck by how many people from all social strata seemed to be suffering from similar ailments like depression, stress, anxiety and substance abuse. So moved by this epidemic, Davinder decided to give up all his businesses and concentrate on his passion for seva (selfless service). Through this transition, he gained a broader vision of how to help the human community at large. As a result, he was compelled to let go of the business world and dedicate 100% of his time to a charitable cause. Finding no existing organization in line with the scope of his vision, in the summer of 2016, Duwara Consciousness was born.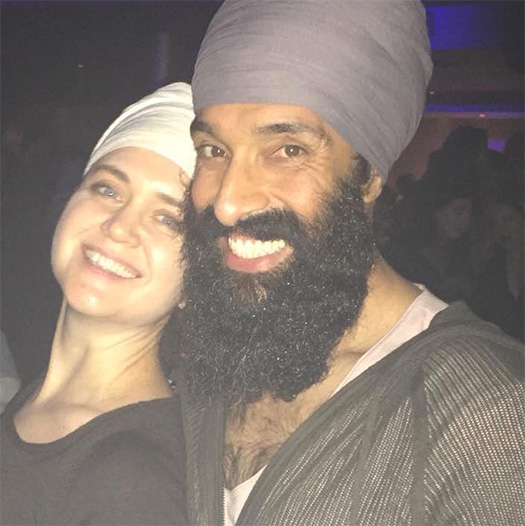 Harisimran Kaur was born in Los Angeles and has lived her life all over the US and India. From her infancy, she was taught by Yogi Bhajan, a renowned Kundalini & Tantric master from India, about the basics of life and serving others. "Be the lighthouse to bring the ships home" and "Be the forklift" he would say. These ideals have inspired her unimpeachable passion for making a difference in the lives of others.
​
She is an MBA & business executive in the fields of finance and accounting, primarily focused on fast growing start-up ventures with up to 1,000 employees. Her work as given her a penchant for seeing new ideas come to fruition, resolving real pain points with actionable solutions, and building something from nothing.
Together, Davinder and Harisimran drive the Duwara Consciousness mission to serve others and solve problems.
​
Davinder & Harisimran met for the first time in spring 2017 and immediately discovered their connection in a shared mission. Since that day, they have only driven forward, fully committed to their passion for being of service.
To be happy for an hour, take a nap
To be happy for a day, go fishing
To be happy for a month, take a vacation
To be happy for a year, win the lottery
To be happy for life, Help People
"Davinder & Harisimran"